Top 5 Health Benefits to Hiking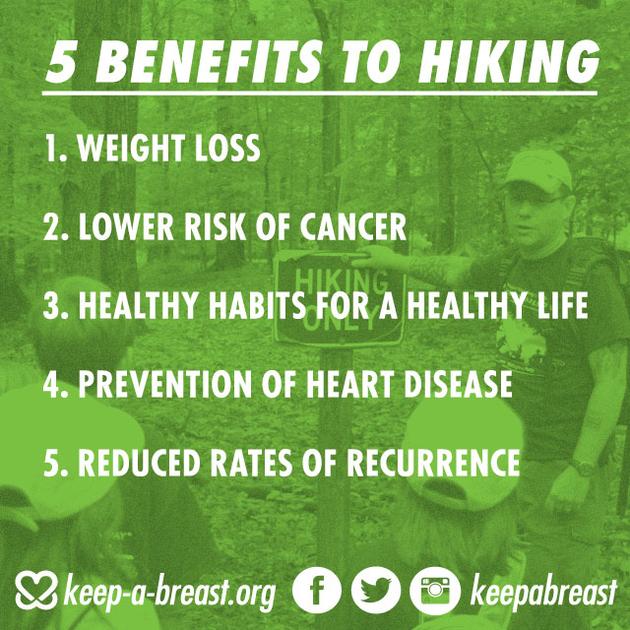 Are you looking for a way to stay fit with little effort? Hiking is an excellent way to lower your risk of cancer, while enjoying the great outdoors at the same time! Hiking exercises your mind, body, and soul and is a simple way to challenge yourself; all you need is a good pair of shoes! Turning this into a healthy habit can lead to a healthy lifestyle. Here are just a few benefits to hiking regularly:
WEIGHT LOSS 
Studies have shown that obesity is associated with a modest increase in risk of postmenopausal breast cancer. Hiking is an excellent way to maintain a healthy weight for people of all ages. For people who find it uncomfortable to run or jog, walking is a great form of cardio that burns about 240 calories an hour! There are a wide variety of hiking trails, so start off with a relatively flat surface, then challenge yourself to a greater incline.
LOWER RISK OF CANCER
Hiking can lower your risk of colon and breast cancer, and possibly lung and endometrial cancer. Just 30 minutes of aerobic activity 3-5 times a week can lower your risk of breast cancer by 30 to 50 percent.
HEALTHY HABITS FOR A HEALTHY LIFE
Turn hiking into a healthy habit! You will notice improvement in your mind, body, and soul. Hiking releases adrenaline and endorphins, which can decrease tension, anxiety, and blood pressure levels. This can reduce risk of depression and will leave you feeling better physically and mentally, which will encourage you to continue your new healthy habits.
PREVENTION OF HEART DISEASE
One effective way to avoid cardiovascular disease is by maintaining a regular walking routine. By hiking, individuals can not only reduce their chances of heart problems, they can also decrease their cholesterol levels, a common cause of heart disease. Hiking can increase high-density lipoprotein ("good" cholesterol), which helps move the "bad" cholesterol from the artery walls.
REDUCED RATES OF RECURRENCE
Studies show that exercising during and after treatment benefits cancer survivors in several ways, ranging from improved fitness and higher quality of life to reduced rates of recurrence and a longer life. Cancer patients who exercise may experience less nausea and less fatigue. It's never too late to use exercise to fight cancer. If you're coping with cancer or its aftermath, now is the time!
It should come as no surprise that hiking offers so many health benefits! So grab a pair of sneakers and head out to explore Mother Nature. Just remember to stay hydrated! And let us know what your favorite trails or places to hike are in the comments.