Keep A Breast Non Toxic Stocking Stuffer Gift Guide 2013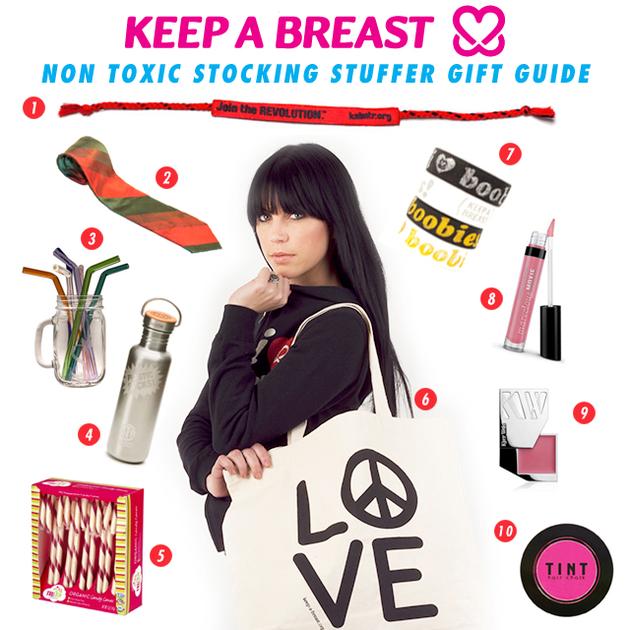 Keep A Breast is dreaming of a non-toxic Christmas! We've put together a handy gift guide to help you fill the stockings of all the non-toxic guys and gals on your list. And the best part? Nearly every item on the list is under $30, so you can even afford to pick up a few for yourself! GUYS
1.  Non Toxic Revolution Bracelets - $3.49 Join the Revolution! These Non Toxic Revolution woven bracelets make the perfect stocking stuffer for the non toxic loving guy on your list. They make for a seriously fashionable way to show his dedication to the cause.
2. The Tie Haberdashery - $18 - $60 Give the gift of vintage! The Tie Haberdashery sells vintage ties in a variety of styles that would look as great in a stocking as they would at that fancy holiday party. Buying vintage is not only good for the environment, it also prevents showing up in the same tie as someone else! Be sure to check out the full collection of vintage ties.
3. Simply Straws - $8.25 Did you know 500 million straws are used in the U.S. each day? That's a lot of plastic waste! Help to reduce that number by gifting Simply Straws! These straws come in a variety of colors (the pink and black ones even benefit KAB and NTR), so pick up a few in your guy's favorite.
4. "Plastic Sucks" Kleen Kanteen - $29.95 Splurge! Think of all the money he'll save on plastic water bottles! This stainless steel "Plastic Sucks" water bottle is reusable, environmentally friendly, and helps him avoid the yucky chemicals that can seep into the water in plastic bottles over time. The cool design is just an added bonus.
5. Organic Candy Canes by TruSweets - $3.99 What's a stocking without candy canes? These organic candy canes are free of gross chemicals and they taste great. It's a win win!
GIRLS
6. Keep A Breast LOVE Tote Bag - $21.99 What better message to spread during the holidays than peace and love! This KAB tote bag is made of recycled cotton and is the perfect accessory to carry her new non-toxic products!
7. Keep A Breast i love boobies! bracelets - $3.99 Let her show off her love for boobies! These fun bracelets are a conversation starter and a great way to spread awareness. Bonus points for choosing Christmas colors!
8. bareMinerals Marvelous Moxie Lip Gloss - $18 Lip gloss is a staple of any good stocking. Marvelous Moxie comes in a variety of colors that will make your best girl look great at that New Year's Eve party!
9. Kjaer Weis Cream Blush - $54 Splurge! Okay, this Kjaer Weis cream blush goes above our $25 price limit, but it's so fantastic we couldn't help ourselves! So if you're feeling especially generous this holiday season gift her this chemical-free, beautifully packaged makeup. And if you pick some up for yourself, don't worry, we won't tell.
10. TINT Hair Chalk by Fine Featherheads - $13 This is the perfect gift for the girl that likes to change up her look! Tint Hair Chalk lets her change up her hair color to suit her mood, and washes out in the shower. And at this price you can gift her a few different colors to change her hair color whenever she fancies!