Keep Abreast and Curry On At Mohawk Bend With A Cancer-Fighting Pizza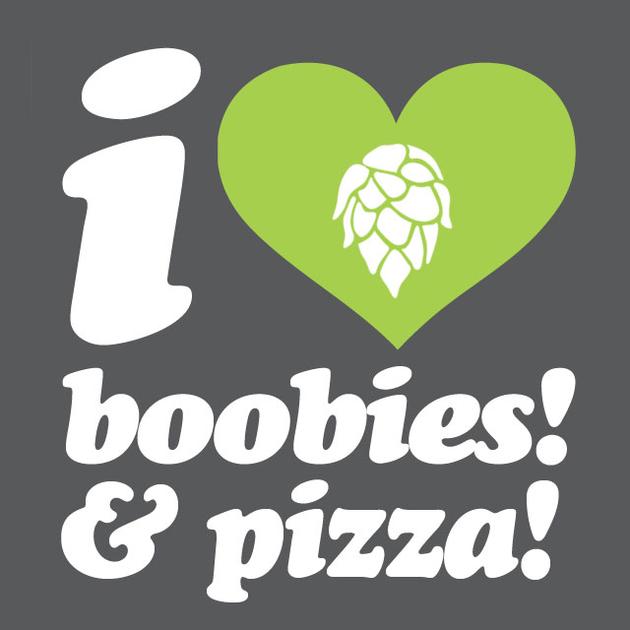 The New Year is upon us and if you're like us you've probably set yourself up with a list of 2014 resolutions. If eating healthy and giving back are on your list, well look no further! For the entire month of January Mohawk Bend in Echo Park will feature a one-of-a-kind pizza that will benefit Keep A Breast. Four dollars from every Keep Abreast and Curry On pizza sold will benefit Keep A Breast.
Each month Mohawk Bend chooses a local non-profit to benefit from their Piece of the Pie program and we couldn't be more excited about being this month's pick. We worked together with the masterminds and chefs at Mohawk Bend to create not only a great tasting pizza, but one loaded with vitamins and cancer prevention superfood ingredients. And yes there's a vegan version that swaps out the chicken for curry cauliflower and the mozarella for cashew cheese.
Order our new Piece of the Pie: Keep Abreast and Curry On to benefit @keepabreast! Available in #vegan and Chicken. http://t.co/Ym2uttQs0r

— Mohawk Bend (@mohawkla) January 2, 2014

Wondering what ingredients we picked? Aside from the Chicken and mozarella cheese, take a look below to find out. And if you aren't familiar with some of the ingredients that's okay, this pizza was created for you to discover the amazing flavors and benefits these ingredients have for your body.

COURAGEOUS CURRY

First up with its healthy benefits, curry secured itself as a key ingredient on our pizza. According to the American Cancer Society,  the active ingredient c

urcumin found in the spice turmeric

 has been found to be responisble for fighting off cancer. How does it help prevent and lower your risk of cancer? Since curcumin is an antioxidant it fights off those free radicals that would otherwise damage you body's cells. Studies have also shown that it plays an important role in preventing cancer development, growth, and spread.

CRUCIFEROUS CAULIFLOWER

POWERFUL POMEGRANATE

Pomegranate might seem like an unusual ingredient but this sweet and lightly tart fruit is exactly what our pizza needed. Not only does it add another layer of flavor but the benefits of pomegranate are endless. Studies suggest that potent antioxidant compounds found in pomegranates have shown to reduce platelet aggregation and naturally lower blood pressure, factors that prevent both heart attacks and strokes. But the benefits of pomegranate don't stop there! Recently, City of Hope researchers identified six chemicals in the pomegranate that suppress aromatase — a substance in the body that helps produce estrogen. About 70 percent of breast cancers need estrogen to grow- can we say super food ingredient? An easy pick for our pizza.

FEROCIOUS FENNEL

For many fennel might be a new spice but don't be scared. According to the Times Of India,  fennel is armed with phyto-nutrients and antioxidants. This puts cancer cells in a very bad position and they have nothing but to accept defeat. Anethole, a major constituent of fennel resists and restricts the adhesive and invasive activities of cancer cells. It suppresses the enzymatic regulated activities behind cancer cell multiplication. How awesome is that!?

SUPER SPINACH

Not only do we eat it in salads but it makes a great topping on almost everything. Ever wondered just how good it is? In an article on Men's Health, much of the power of spinach is said to be in its green agents. From its chlorophyll, carotenoids, omega-3 fatty acids, and micronutrients like vitamins, minerals, and antioxidants it not only fights tumor formation but it helps decrease the amount of cancer-promoting molecules.

BOLD BASIL

CRAZY CILANTRO

Whether it's in your salsa, tacos,  or Pho noodles it's time to party and take advantage of the crazy benefits that cilantro offers. As an anti-cancer herb, it's packed with Vitamins A & K and phytochemicals, known for their role in the prevention of cancer. Hell yeah!

VEGAN CASHEW CHEESE

Last but certainly not least is a vegan cheese alternative made out of cashews. Yes you heard us right...cashews! Did you know cashewscaontain proanthocyanidins, a class of flavanols that actually starve tumors and prevent cancer cells from dividing. In some studies, it's been shown that eating 12 cashews a day can reduce your colon cancer risk. That's nuts!

So ring in the New Year with a Piece of the Pie and try our Keep Abreast and Curry On pizza that will not only help you fight off cancer but benefit Keep A Breast as well. And who knows,  you might just find a new favorite spice or vegetable!Mohawk Bend is located in Los Angeles at 2141 Sunset Blvd in Echo Park.