Keep A Breast And Check Yourself With Breast Cancer Mobile App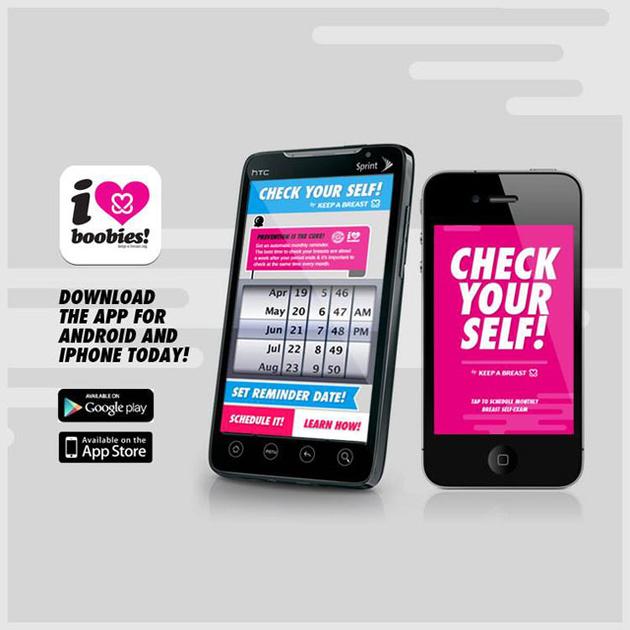 Keep A Breast teamed up with verynice studio and The Rare Studios to re-think the role of smart phones in breast cancer awareness and prevention. The FREE app provides a visual step-by-step overview of the breast self-exam and allows you to easily schedule an automatic monthly reminder with a pop-up text reminder.
Check Yourself! App
With 40% of diagnosed breast cancers being self-detected, the iPhone and Android compatible app aims to educate young people about the importance of breast self-checks and its timing. The monthly reminder helps them perform their breast self-check at the same time every month, at the recommended time, right after your monthly cycle.The Keep A Breast Foundation Check Yourself! app helps you to establish your own routine and approach to the breast self-check.
Establishing what is "normal" for you is an important step to knowing your body. Knowledge is Power. Because of the normal hormonal fluctuations in a woman's body that affect breast tissue, it is important to select the same time every month so you will be able to distinguish between normal change and something that feels different.
The foundation has re-launched the Keep A Breast Check Yourself! App which is now available in four languages; English, Spanish, French and Japanese. It is available as a free download on iOS and Android mobile and tablet devices via the Apple App Store and Google Play store. Both verynice and The Rare Studio helped make the app possible by graciously contributing over 150 hours of pro-bono service to the organization, allowing us to offer this life-changing – and perhaps life-saving app- free to the public.
"I can't tell you how often nonprofits express a desire to make an app for the sole sake of being able to say, 'Hey look, we made an app!' It was immediately clear however that this was absolutely not the case for Keep A Breast." – Matthew Manos, Founder & CEO of verynice.
Download the free iPhone or Android app available now by searching Keep A Breast on iTunes or Google Play stores or at direct links: