Dating with Dignity Online Summit benefiting Keep A Breast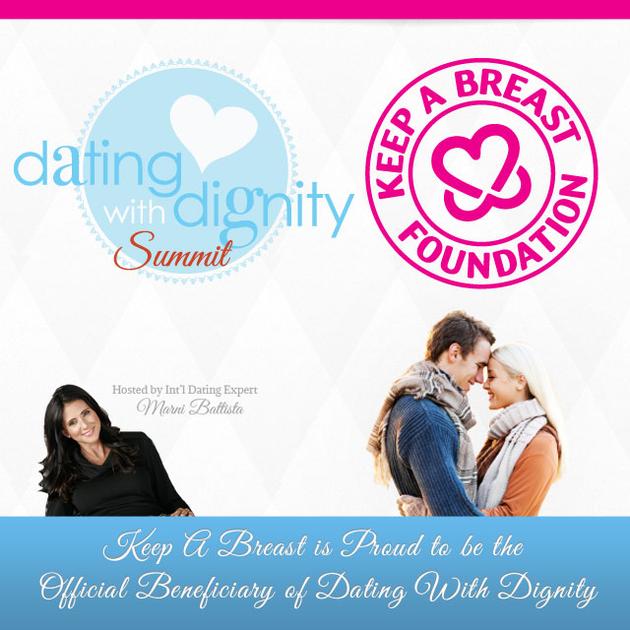 Here at Keep A Breast we know that it is so important to love your self and your body. From Miss Nixon writing about getting her sexy back after cancer on HuffPost, to stating the importance of loving your body on our Self exam cards we know how sometimes it is good to be reminded how to love your self. That is why we are so excited to be the official benificary of Dating with Dignity, a Los Angeles coaching service that helps men and women create successful, loving relationships. Dating with Dignity will launch its first-ever telesummit on September 24th. This 30-day event will feature daily recorded interviews from top experts in the fields of dating, relationships and sex! The telesummit, the first in a series of programs (leading up to the "Ignite Your Life" live event in January 2014), will help anyone transform their relationships quickly and effectively with a blend of sassy and practical, easy-to-understand, fun, and useful "how-to" information.
"This summit is part of my mission to bring dignity back to the process of dating and relationships," says Marni Battista, founder of Dating with Dignity. "Together, we'll help participants master the 21st century dating skills needed to find love now."
To make the telesummit available nationally, Dating with Dignity has partnered with several key people and organizations, such as celebrity dating coach Paul Brunson; celebrity gossip and relationship site CupidsPulse.com; eHarmony, the world's #1 matchmaking relationship site (offering 10 participants a free one month subscription).
Listeners can pre-register for the telesummit and receive a bonus audio interview from an eHarmony expert.
To find out more about the telesummit and its panel, please visit http://datingwithdignitysummit.com.