Beautiful Art Comes in All Shapes and Sizes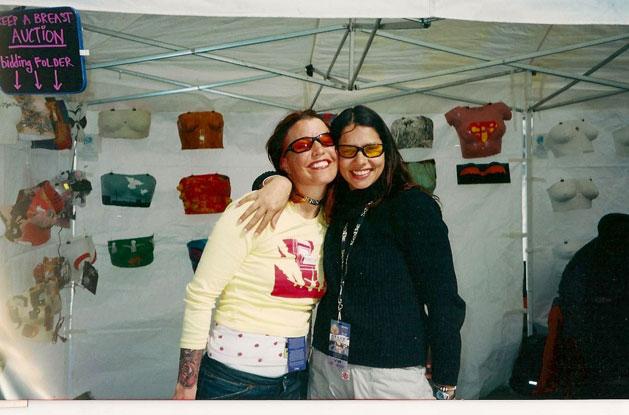 The Keep A Breast Casts are the core creative expression of our foundation. I created the casts as a way to express the seriousness of breast cancer through a beautiful art form that changes with each person and each artist that participates. Every time I cast someone I'm blessed with the experience of getting to know that person on a very intimate level. Every time I see a painted, finished breast cast for the first time my heart flutters with excitement and pride.
It all started 13 years ago with a small group of skaters, surfers, punks and artists who wanted to help a friend who was battling breast cancer. Every time I make a cast I'm brought back to the first cast I ever made on my dear, best friend Mona who is the co-founder of KAB who is not battling - but totally conquering - her own diagnosis of breast cancer. I see her and am in awe of her strength. I'm in awe of who she is: a wife, a mother, and a friend. I feel like the last few months she's been there as a friend to me through some tough times that I have been going through more than I have been there for her. I guess that's what a friendship is all about. Just being there for each other. Just being together.
Breast Cancer really sucks! It makes me mad, sad, and scared. It's hard for me to understand that how far we have come with science and technology in this world in so many ways and there is so no cure for cancer and that the options for diagnosis and treatment are not as advanced and not as humane as I wish they were.  I'm not a doctor or a scientist but I am an activist! Keep A Breast exists for you, solely for the benefit of you, your friends, and your families. We educate you on ways you can prevent cancer. We do our best and sometimes that's not good enough but sometimes it is. That's what being an activist is all about, taking action, being loud, being brave, and doing everything in our power to make change.
YOU ARE BEAUTIFUL NO MATTER WHAT SHAPE OR SIZE YOU ARE.
Right now is an awesome opportunity to take action and support Keep A Breast by purchasing your very own breast cast. We have some incredible art available painted by your favorite artists like Raif Adelberg, Philip Lumbang, and Gregory Siff, as well as casts of your favorite athletes, Chanelle Sladics, Kjersti Buaas, and Elena Hight.